SHARE THE PASSION
A strong passion for travel has brought as all together. The belief that one cannot become a well-rounded individual without having experienced different cultures, beliefs and ideas. At Avanti Destinations, we've been serving the travel agent community since 1981, ensuring their clients' enjoy vacations of a lifetime. Are you looking for a career in the travel industry or looking for a well-established company who will help you learn and grow? We're looking for you!
---
JOB OPENINGS
POSITION TITLE: Travel Consultant
DEPARTMENT: Reservations
REPORTS TO: Director of Reservations
CLASSIFICATION: Full-Time Non-Exempt; Hourly
DIRECT REPORTS: None; Non-Supervisory Position
WORK LOCATION: In-Office
SALARY/WAGE: $41,600 plus potential sales incentives

Are you ready for your career in travel to take off? Do you have a never-ending love of travel that you want to share with others? Become an Avanti destination expert!
Avanti's Travel Consultants enjoy a wealth of perks and desirable benefit offerings including:
$1000 hiring bonus
$40K+ (Senior Travel Consultants earn considerably more)! $3,466 per month ($41,600 per year/$20/hour) for the first year, plus Incentives/Bonuses for achieved metrics.
Paid educational study trips are available to promote career development
Personal travel opportunities at discounted pricing
401K with up to 4% match
Company sponsored IATAN memberships, providing exclusive travel discounts
Paid Vacation, Sick Time and Holidays, up to 24 days in your first year
Incredibly affordable, super-rich Medical, Dental & Vision Plans; Flexible Spending Account
and more!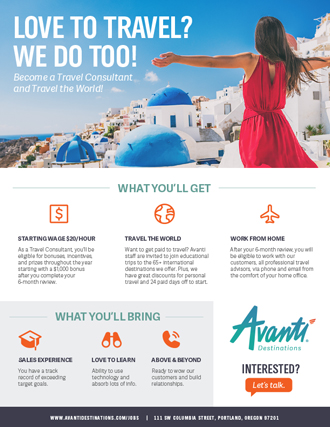 POSITION TITLE: Air Ticketing Specialist
DEPARTMENT: Air Department
REPORTS TO: Air Ticketing Manager
CLASSIFICATION: Full-Time Non-Exempt; Hourly
DIRECT REPORTS: None; Non-Supervisory Position
WORK LOCATION: Main Office - Portland
SALARY/WAGE: From $22 an hour

The Air Ticketing Specialist has to have the knowledge base to be able to perform duties in Amadeus GDS system. Perform the daily air related processes and conform to the Company's objectives and policies. The Air Ticketing Specialist would be responsible for working directly with Avanti Reservation staff, and ticketing contract and published air, working schedule changes, refunds and exchanging of airline tickets.
Air Ticketing Specialists are required to meet Avanti's quality standards and accuracy levels to achieve company goals and support all functions within the Call Center.
To review job description and apply, please follow the appropriate links: Air Ticketing Specialist ⸱ Indeed Application.
---
WHO WE ARE
Integrity • Motivated • Passionate • Accountability • Courage • Teamwork
These define our core values and the guiding principles that form the foundation on which we perform, work, and conduct ourselves. Organizational values guide us on how to accomplish tasks and make decisions. These principles shape the culture and define the character of Avanti Destinations, encouraging us to support each other to achieve our goals.
AWESOME BENEFITS AND PERKS!
Avanti Destinations' greatest asset is its employees, and we show our appreciation by offering competitive wages and a stellar benefits package. The offerings include Vacation & Sick Leave Banks, and Holidays, Local Transit Discount Program (55% subsidized by Avanti), Medical and Dental Insurance for employees and their dependents, Life and Disability Insurance, 401k Retirement Plan, Flexible Spending Accounts, Employee Assistance Program (EAP) and more!
WE CELEBRATE
We recognize each other's professional and personal achievements, and celebrate at quarterly staff parties, along with potlucks, cook-off challenges and holiday themed events. From celebrating the big things to enjoying the little things, we build our culture stronger everyday by inspiring teamwork.
OUR LOCATION
Located in SW downtown Portland Oregon - a short walk from mass transit stops, Avanti offices offer great views of the city and surrounding landscapes. Open workspaces are conducive to a team environment. A "quiet" break room and lunchroom with amenities provided.
---